We recently came across a very detailed post from The  Verge breaking down a lot of information on the Apple Watch based on publicly released information from Apple, Inc.  We've summarized the features of the post written by The Verge below.
An iPhone Is Required Almost At All Times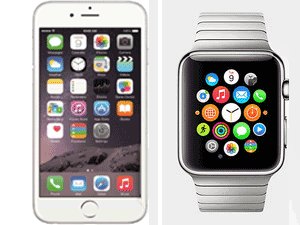 Per Apple's documentation, Apple Watch applications extend that of iOS applications.  Developers are told to begin Apple Watch application development with existing iOS applications which must support iPhone.  This requirement is due to the fact that Apple Watch applications' processing power is all coming from the iPhone.  As someone interacts with the Apple Watch, the data is actually being passed back and forth between an iPhone and the Apple Watch.  Apple also notes in their documentation that an Apple Watch application should complement and not replace an iOS application.  The Verge article did find that later in 2015 developers will be able to make fully native applications for the Apple Watch.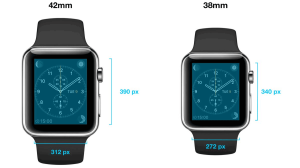 Two Different Retina Displays
The User Interface documentation released for the Apple Watch revealed that the smaller 38mm Apple Watch will have a resolution of 272 by 340 pixels.  The larger Apple Watch has a screen size of 42mm and will have a resolution of 312 by 290 pixels.  Both have about the same aspect ratios.  Later down the road for the Apple Watch life cycle, their is also the possibility for larger screens based on the way objects are displayed on the screen.  Per Apple's documentation, objects automatically flow downward from the top left corner of the screen and will fill the available space.
There Are Different Types Of Apple Watch Notifications
There are two different displays on the Apple Watch.  The "Short Look" is a display that is briefly seen when an Apple Watch wearer raises their wrist.  This Short Look has an application icon, an application name, and some brief information.  If the wearer continues to keep their wrist raised, the display will automatically change to a "Long Look" display page which shows more information and is a lot more customizable.  When the display changes to the Long Look display, application icons move to the top of the screen and the user can scroll down through the display to use custom actions or dismiss a notification.
No Custom Gestures
Unlike the other iOS devices, the Apple Watch will not allow for custom gestures.  Apple has locked down the device to vertical swipes to scroll and horizontal swipes to go between pages.  Besides swiping up and down and left to right, a user can also tap on the screen to select items.  There is also something refereed to as an "Edge Swipe" which would take a user back or up a page.
Maps Are Not Interactive
The mapping toolkit creates non-interactive snapshots with up to five annotations.  There is no scrolling around the map snippet and it is only as large as the Apple Watch's display.  Tapping on the map will open the Apple Maps application.
Images Are Nice On Apple Watch Applications
Apple Watch applications can cache up to 20 megabytes of image resources.  Anything outside of that will come from the iPhone.
San Francisco Font
Apple is releasing a new font for the Apple Watch known as San Francisco.  It is highly recommended by the Cupertino firm.
Does The Apple Watch Interest You?
So based on the points gathered from The Verge's article, does the Apple Watch interest you still?  Having a major dependency on an iPhone for processing applications and communication appears to be a strong requirement for anyone interested in the Apple Watch.  If you are already a fan of Apple and their products, then odds are you already have an iPhone or two in your possession.  If you want to win a free Apple Watch be sure to enter our Apple Watch giveaway.   We are giving away an Apple Watch to our grand prize winner!  Runner ups can win either a Pebble Smart Watch, or $50.00 iTunes Gift Cards!  Our free Apple Watch giveaway is free to enter and is super easy to participate in.  All you need to do is share your unique contest link with your friends, family or other fan s of Apple products.  Our contest software easily integrates with your Facebook, Twitter, and YouTube accounts to allow you to easily earn points to qualify for any of our prizes!  Check out the rules for our Apple Watch giveaway for full information on how to earn points for the prizes!  Earn points by leaving your thoughts on this article!
Related Posts: