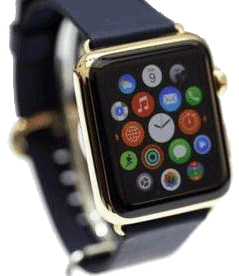 It took a little time to get going but our first chance for you to win an Apple Watch is officially on!  The Apple Watch is predicted to be the number one selling smart watch when it is released in 2015.  With many different options available it will be possible to truly make the Apple Watch a unique accessory that fits an individuals look.  With multiple size face plates, different colors and various watch bands the customization options are pretty in-depth.
The cost for the new Apple Watches is still not currently known but we have seen some estimations running on a low end of around $350.00 all the way up to over $30,000.00 for a diamond designed Apple Watch.  While we wish we could be giving one of those diamond Apple Watches away for free our pockets unfortunately are not that deep.  We are however giving away a free Apple Watch to one of our lucky contest participants!  Our first free Apple Watch giveaway is currently running and is completely free to join!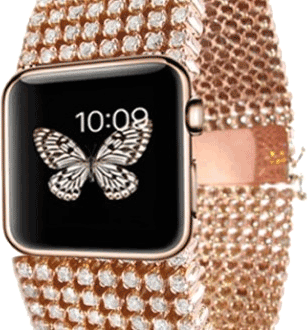 All you need to do is earn points to qualify for all of our great prizes.  The third place prizes include three iTunes $50.00 gift cards.  All you need to do to qualify for this prize is earn 1500 points by the close of the giveaway.  If you qualify for the prize, our system will randomly draw names and the three people who are drawn will each win one of the gift cards.  Our second place prize is a Pebble Smart Watch.  Two lucky people who qualify for this prize will be randomly drawn by our software.  In order to qualify for the Pebble Smart Watch all you need to do is earn 3000 points by the end of the giveaway.  Our grand prize is a free Apple Watch.  The free Apple Watch winner will be randomly drawn by our software as well.  Anyone who reaches 5000 points or more will qualify for the ability to win a free Apple Watch.  It should also be mentioned that if you qualify for the Apple Watch, you are also eligible for both the Pebble Smart Watch and iTunes gift card drawings.  If you qualify for the Pebble Smart  Watch, you are also eligible for the $50.00 iTunes gift card drawing.
We have made earning points for our free Apple Watch giveaway super simple.  Most people today use websites like Facebook, Twitter, YouTube, and other social media sites.  All you need to do is post on these social networking or social media sites and put your unique contest link in the posts.  Our contest page works directly with Twitter, Facebook, YouTube, Pinterest, and many other sites to already point you to where to posts your messages.  Posting to Facebook and Twitter from our contest page will automatically include your unique contest link.  Each time you post to those sites you earn points.  If people click your unique link, you earn points, and if people signup under your link you earn even more!  Creating a YouTube video promoting this contest can earn you the most points each day!  If you want to learn how to be the most successful with this contest be sure to watch the video on the free Apple Watch contest page.  As an extra incentive to just watching the free Apple Watch giveaway tutorial video, if you make it to the end of the video we will provide you with a link that will give you an extra 250 points!  After watching the video, you will see how you can qualify for the free Apple Watch in only a matter of days if you get on board with the various options of earning points that we offer.
We look forward to watching this free Apple Watch giveaway progress.  Be sure to like out Facebook page and follow us on Twitter for all of our free Apple Watch contest updates.
Related Posts: