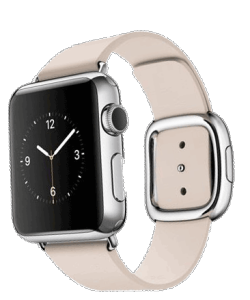 Rumor has it that Apple is already hiring staff who have an eye for fashion in preparation for it's launch of the Apple Watch.  Apple is promoting the new Apple Watch as it's most personal device to date, and not just another tech device, but an actual piece of jewelry.  Apple has always been a company based on both functionality as well as amazing detail and quality.  It makes perfect sense that Apple would want the fashion world to accept its first wearable device.
According to 9toMac Apple is currently recruiting employees for their Apple Stores this month with fashion or luxury sales experience.  Angela Ahrendts, the former CEO of Burberry is leading Apple's retail efforts for the multinational corporation.  With this news, could the release of the Apple Watch actually transform the current state of the Apple Store into something that more resembles a jewelry store?
With what is already typically a crowded place, Apple Stores are likely to get a nice make over prior to the launch of the Apple Watch.  The new fashion and luxury sales people will need dedicated space to present and detail the new line of Apple Watches.  As their are multiple versions of the Apple Watch it will require a more personal sales experience to allow the consumer to find the right look and feel for their needs.  Allowing consumers to try on different Apple Watches will help them determine which one is right for them.  This belief will most likely require a larger footprint in the Apple Store due to all of the various options available.
When it comes to options on the Apple Watch, consumers can choose between a 38mm or 42mm display, stainless steel, black stainless steel, silver, and gray aluminum finishes, and even 18 karat yellow or 18 karat rose gold.  On top of that, their are also six different watch bands all with different color options as well.

9to5Mac is predicting that Apple Stores will display Apple Watches behind glass in Apple Store type tables.  Apple has previously used these types of tables in September during the press and employee hands on area following the Apple press conference.  As people cannot try on items behind glass tables, hiring experienced sales people who are familiar with fashion and luxury items seems like a great way to sell to future Apple Watch owners.  In regards to teaching people how to use the new technology, Apple could schedule demos within the Apple Store so that consumers can learn in a group fashion instead of one on one with one.

In an effort to ensure that the Apple Watch is not just another piece of technology and something the fashion world should take note of, Apple has recently had the Apple Watch featured in Vogue China.  The Apple Watch also made an appearance at Fashion Week in Paris, France.  Apple definitely wants to compete with high end watches manufactures and is doing a lot when it comes to marketing this new device as both a piece of technology that will make a persons life easier as well as a fashion accessory.  Hiring specialized sales staff who know how to sell high end products is a great move for Apple in order to get their high end smart watch into the hands of successful fashion oriented people.
So do you want an Apple Watch for the technology, or the way the watch looks…or maybe a combination of the two?  Let us know in the comment section below!  Remember that by commenting on our posts you are earning points for our free Apple Watch giveaway!  You can comment up to ten times a day on our posts and each comment earns you 10 points!   Our free Apple Watch contest is going strong and we encourage everyone to like us on Facebook and follow us on Twitter to keep up to date with the progress of our free Apple Watch contest!
Related Posts: