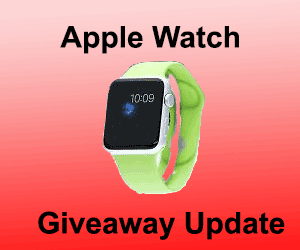 The Apple Watch giveaway is in full force and we just wanted to post a quick update!  Loads of people have been earning an extra 250 points just for watching the entire tutorial video on the Apple Watch giveaway page.  At the end of the video, all you need to do is click on the link and you will be taken to our congratulations page which will automatically credit your account with an additional 250 points!  Be sure to click on the link at the end of the video as just watching the video until the end will not automatically get you the points.  Watching the video not only earns you bonus points quickly and easily…it also teaches you how to earn thousands of points a day doing things you already do online!
Our biggest update is that we have extended our first Apple Watch contest out a little longer than we had originally planned.  The original giveaway was set to end on March 15th, 2015; however, Apple CEO, Tim Cook, announced during the Apple earnings call that the Apple Watch would begin shipping sometime in April.  Given the fact that the Apple Watch would not have been available to our winner had we ended the Apple Watch contest in the middle of March, we have decided to extend the contest into early June.  This gives you more time to really start promoting your contest link and getting other people to join under you to boost your points to qualify for our prizes!
The more you share your link on different social media platforms, the greater chance you have of qualifying for our prizes!  We make it super simple to share your unique contest link with your friends and followers on Facebook, Twitter, Google+, and Pinterest by just clicking a button on our contest page.  It takes literally seconds to earn points and you can share your links via Facebook and Twitter up to 10 times a day for a maximum of 200 points between just those two platforms each day!  Be sure to view the contest rules page to see how easy you can earn points for our giveaway!
Related Posts: